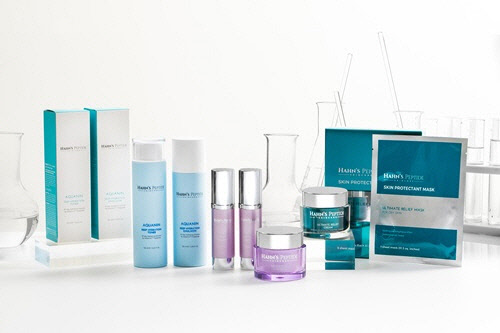 HAHN'S PEPTIDE, a cosmetic brand of SupadElixir (CEO: Han Jang-hee ), which specializes in the research and development of peptides, announced on the 24th that it would unveil Revi:Cell Youth line, a differentiated anti-aging line that gives skin elasticity and Aquanin Deep Hydration line, low-irritation skin-care line for sensitive skin.

Revi:Cell, HAHN'S PEPTIDE's anti-aging line, is a compound word of REVITALIZE and CELL, meaning 'revitalize skin cells." It is an anti-aging solution line that helps to restore the skin's balance and achieve good skin health.
Revi:Cell Serum contains 'Syndermin,' FGF-1 (fibroblast growth factor)-derived peptide, which gives skin elasticity to the core elements of the skin's dermis layer. Revi:Cell Cream contains 'Synepin,' EGF (epidermal growth factor)-derived peptide, which revives the tired skin.

When used together, the Revi:Cell Serum and Cream provide a step-wise total anti-aging care to the dermis and epidermis.

Aquanin, HAHN'S PEPTIDE's newly-unveiled hydration line, is a compound word of AQUA, which means moisture, and Adiponin peptide ingredients. It is a gentle moisture line that removes dead skin cells on the epidermis and strengthens the weakened skin barrier, giving a healthy glow on your face.
Adiponin, independently developed 3-mer peptide ingredient contained in the Aquanin line, is derived from Adiponectin, known as the good hormone.
Aquanin Toner is viscous liquid formulation that removes dead skin cells from dry skin and provides ample moisture to the skin, enhancing the skin texture. Aquanin Emulsion quickly and easily is absorbed without any stickiness, so can be used by anyone of all ages regardless of the skin type.
SupadElixir will participate in In-cosmetics Asia 2018, Asia's largest exhibition of raw materials for cosmetics to present its peptide ingredients that it independently developed. "We plan to expand our market presence not just to the Southeast Asia but to European with our peptide ingredients, whose effectiveness were already proven by US dermatologists," said an official from SupadElixir. In-cosmetics Asia 2018 will be held from October 30 to November 1.